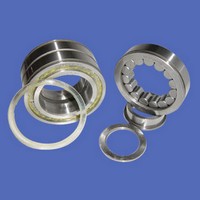 cylindrical roller bearings have large radial load carrying capacity. They can not only be applied to sustaining heavy load and impact load, but are also used in high speed operation as well.
N and NU series can make axial movement. They can adapt to the variation of the relative position between axis and enclosure which dues to thermal expansion or installation tolerance. They are suitable for flexible bearings.
NJ and NF series can sustain a certain amount of unidirectional axial load, while NH and NUP series can sustain a certain amount of bidirectional axial load.
NNU and NN series have so strong rigidity that they can resist the radial load. Most of them are applied to the principle axis of a machine tool.
FC, FCD and FCDP series can sustain a large amount of radial load. They are applied to rolling mill and roller.
The series above are mainly applied to medium and large-sized electromotor, dynamo, gas engine, speed reducer, handling and transportation, and industrial machinery.